Jeremy Rifkin, economist, sociology expert and the most relevant influencer of the last decades, is absolutely clear warning us about the critical transformation industries like communications, edition, learning or energy have suffered. He illustrates us about a zero-margin economy based on prosumers, where we will mostly share instead of buy. The time when the production cost will be low enough to strangle capitalism economy system, is just around the corner.
All business are slowly assimilating the enormous pressure of a technological advance without precedent in history. The Internet of Things that opens an entire world of exponential connections and combinations before inconceivable, is changing absolutely the way we set out our business processes. Big Data o the capacity to ingest and manage huge volumes of diverse data in a short period of time, makes possible things that months ago were just pies in the sky. The greater and greater capacity of discover, prevent and predict that Data Analytics is providing us, bring the response to key questions in our business that before just were suspected or simply presupposed. The naked simplicity that maps - and the powerful geo technology behind them-   add to any business process open a new world of unexplored possibilities. Concepts like Augmented Reality, Virtual Reality, 3D printing or wearables that few time ago seemed sci-fi comic matters, now are emerging realities. Definitively, today we can express without fear of making mistakes that imagination is truly the limit.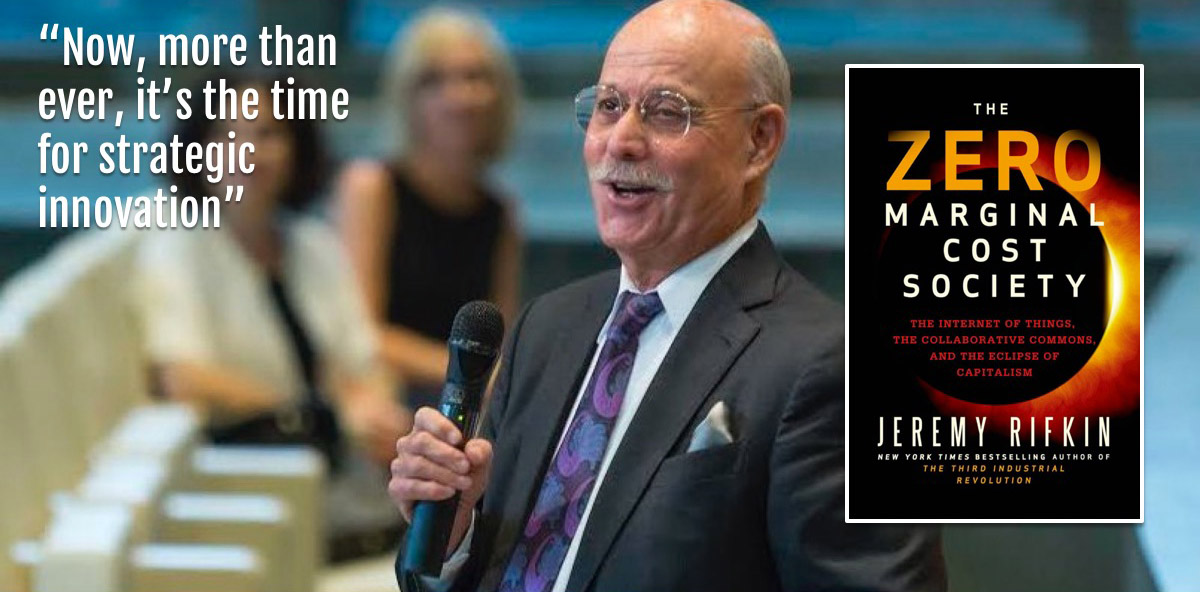 In light of this situation, all "traditional" businesses are feeling like they need to be digitally transformed. All of them want to reinvent. It's not difficult to find evidences glancing over the economy pages. A big Bank creates its own Analytics Department, or this centenary newspaper concentrates its efforts in the digital format, abandoning the material one. The fear to see how this transformation impacts over his waterline is a strong wake-up call to start walking.
But while they do the first steps to nowhere, anybody forget to safeguard the access to its own dairy cow. Mr. Rifkin warns about the logical reaction provoked by the natural aversion to change. This means, in capitalist terms, as many monopolistic practices as you can. And that's a brake. You can't lead the change and, at the same time, wants that everything to remain the same as long as possible. That's something easy understandable for the big worldwide companies, whatever their business was. These companies have a big bicephalic problem. Instead of putting the efforts, the money and the time in the correct box before the wave came, they prefer to define unreal plans oriented to self-convince that they can swim as Michael Phelps and keep their clothes dry.
Now, more than ever, it's the time for Strategic Innovation. There's no other alternative for existing big companies to have the chance for an easy adaptation to Third Industrial Revolution. There's no other way to innovate than through strategic design where people, in its condition of user, customer, citizen, employ or whatever, must be in the center of all processes. And there's no other method away from understanding carefully the user experience of any product or service we've got the temerity to launch to the market.
We must reward tech knowledge, inspiration, creativity, talent, abstraction and all that means get out of the comfort zone to visualize conveniently where we want to go.
We must dismantle all to build again. We must question all and direct the processes to the source of any decision, the new prosumers. Asking and testing from minute zero. Erring and learning along the way. It's our obligation. That's what anybody politically correct expects.  But the margin to make mistakes is shrinking dramatically each passing day. The mistake today cannot be the result of a lack of resources, means or willingness. The mistake born today from stagnant attitudes, narrow-mindedness or impulsive decisions. If we have the right tools to got it… Why we're still taking so many things for granted? Why we're prioritizing the old ways of doing business in front of the new crushing logic of doing things?
Once this critical thought is brought to light, I turn my eyes to a very familiar world and I question to myself, is the Water Industry able to resist the assault of this Revolution too much time? Definitively not…
The chasm between the current technology state of the art and Water Industry tech level is huge. Compared with the rest of Utilities, Water has always been the poor brother in many aspects. A place where the technology adoption speed never has been very fast. But the exponential acceleration we're feeling during this Third Industrial Revolution in terms of tech evolution have showed the obvious need of investment in IT to simply guarantee the water service.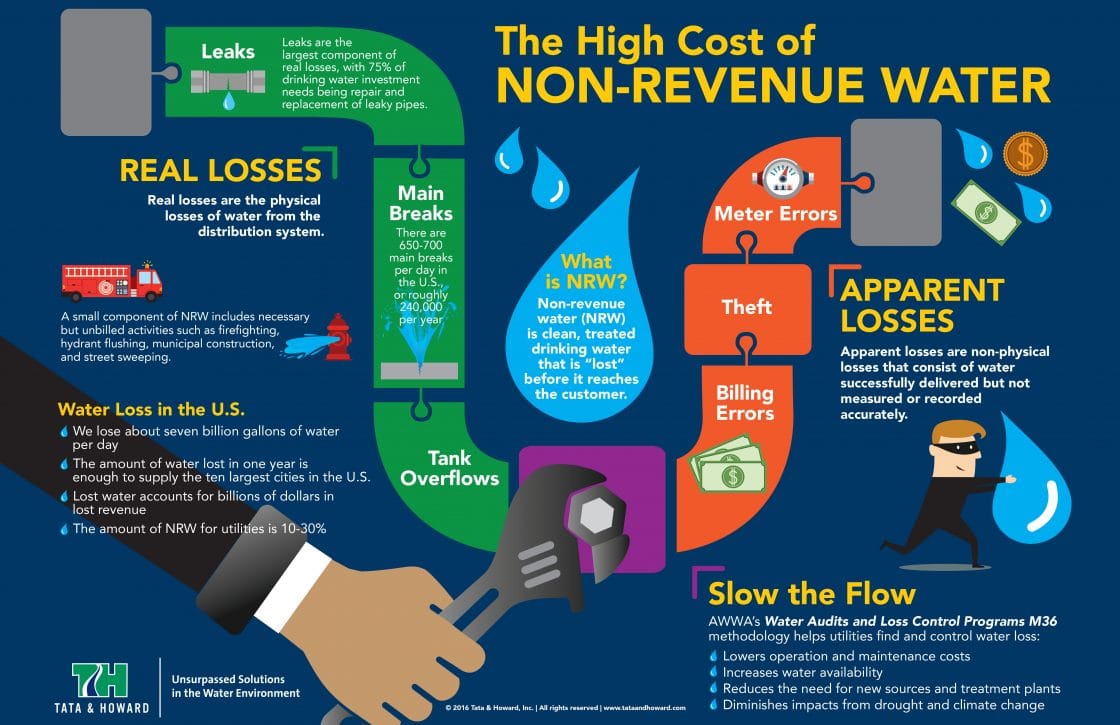 In the other hand, we're immersed in a Water crisis. It is the major risk in terms of impact for civilization or, at least, this is what the World Economic Forum said in his 2105 report. So, the crisis is now. There's an evident pressure for the Industry to face the increase of Water Stress levels all over the world without abusive increases in the water bill as response. In addition, there are thousand and thousand kilometers of buried pipes that need to be replaced with the subsequent money spent, 1 trillion dollars over the next twenty-five years only in US. This is not a very favorable scene. A future I absolutely don't want to leave to my children…
The good news are we've got available the tools to reduce dramatically the complexity and cost of many water business processes with the inestimable help of an expected decrease in energy costs during the next years. But this is a fragmented industry composed by thousands of city councils, medium companies and large corporations. An industry touched by opposed interests that often act like a brake instead of work together with a single vision. Here the doubt is who should lead this necessary change to assure that it really happens. And there's no option. No space for mistake…
We can demonstrate a deep knowledge about operational and commercial Water business processes. But these have to be completely reconsidered from minute zero. We can be moderately sure about where's our goal. But this have to put in doubt immediately. We can have the minimum necessary skills to understand the technology applied until now. But this is not valid now. We have to be aware of Water Industry are dealing with things they're not familiar with. As other industries, it's a fact that in Water there's a great desire of digital transformation and lots of people trying to draw the treasure map. Must the Water Industry lead this job? Maybe… Have they the necessary skills and technical capabilities to do that? Serious doubts… Is the Smart City the solution? I prefer to concentrate in Smart Water first… And digitally talking, have they the strategic sensibility and necessary fortitude at this moment? I don't think so…
At this point, I would like to highlight the important role that Information Technology and Communications sector should play to catalyze this transformation. Banking and tourism Industry have been assaulted by tech companies. Why cannot happen the same thing in Water sector? The processes may be critical but not technically complex. This way there's a clear space that these companies can and must occupy with high tech solutions and products, correctly segmented and oriented to cover all the actors of this complicated Water world.
If strange alliances or marriage of convenience have to be created to shake the foundations of existing or futures monopolies, I say welcome.
There are multiple functional models could be created between tradition and innovation that guarantees we achieve our goal and face conveniently water crisis and other Industry challenges. Given these worrying circumstances, I see an Industry plenty of attractive opportunities for all size tech companies. There's enough space for all of them, from small flexible and speedy startups to robust and experimented large tech colossus. The challenge is start working as soon as possible in the right direction with enough pressure to change the current status mix of inactivity, uncertainty and selfishness. Who's going to reach the finish line first? I don't know. And it doesn't matter. The only thing I hope is it was not too late. A man can be without electricity forever… without fresh water, only two days.
The change is not an option. It is a reality.